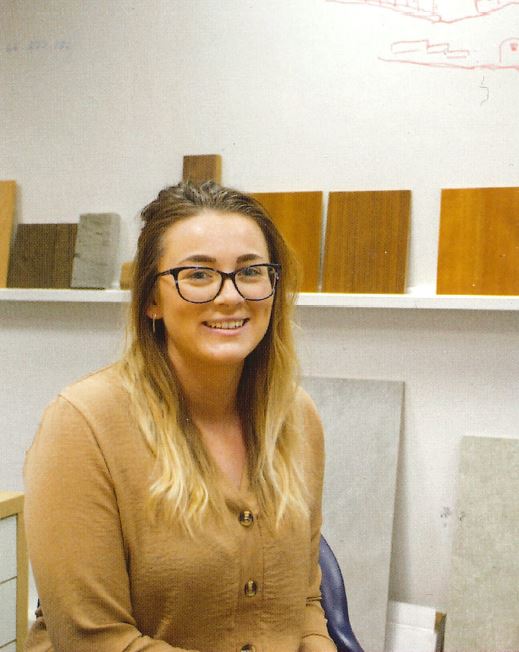 Chartered Architectural Technologist
One of our architectural technologists Carla O'Kane, recently featured in an article published by the Construction Industry Training Board Northern Ireland (CITB NI), highlighting her as a role model for 'Women in Construction Network Northern Ireland'.
The article notes Carla's experience in the construction industry, and how she has completed her training with the support of Montgomery Irwin to become a member of the Chartered Institute of Architectural Technologists (CIAT), meaning she is qualified to offer design services and manage projects from inception to completion.
Carla leads the technological design of a project; forming the link between concept, innovation and realisation, enabling those involved in a project to understand how the building should be put together.
I really enjoy my job and get great satisfaction from it. I have the benefit of being involved in the entire process from start to finish and seeing how happy the client is at the end of it, especially when a challenging brief has been achieved.
As well as working in our busy architectural practice Carla contributes to the wider profession through the CIAT (NI) Regional Committee, helping to get the institute's messages out across social media.
The article goes on to highlight that whilst women are in the minority in Carla's job role, the construction industry is generally very supportive, and numbers are increasing. One of Carla's many strengths as part of the Montgomery Irwin Architecture / Design team is her ability to communicate with female clients, instantly making them more comfortable to contribute without the anticipated judgement that can sometimes be underlying in the construction industry.
The CITB NI Women in Construction Network has been running for several years now and is made up of a group of friendly, inspiring and dedicated women working in a wide range of roles (professional, technical, administrative, managerial) in the construction industry. The Network, which is facilitated by CITB NI, runs a number of different events every year which include site visits, seminars and networking opportunities. These events allow the members to develop networks with people outside their organisation, discuss the industry and its challenges in an informal setting, learn about different parts of the industry, experience what happens on a site if they are office-based, and encourage the next generation to consider working in the industry.